Flower Delivery Dubai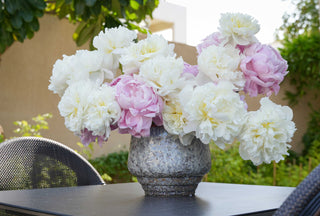 With an impressive 183k Instagram followers and 143k on TikTok, Flowers.ae is rapidly becoming the UAE's go-to luxury florist. How? By thinking outside the pot: The Dubai florist uses the highest-quality flowers sourced from Ecuador and Holland and clients experience elevated customer service thanks to same-day delivery across all Emirates. Better still, flowers.ae sends video approvals for all orders before the chic arrangements leave the shop.
At
Flowers.ae
,we are proud to have achieved the highest rating on both
Trustpilot
and
Google
, making us the
Top Rated Flower Delivery Service in Dubai
and the
most trusted florist in the UAE
. With over 94% of our reviews earning 5 stars, our customers have spoken, and we are committed to maintaining our exceptional level of service.
We understand the importance of every
flower bouquet
to our customers, which is why we keep them updated on the process every step of the way. Additionally, we go the extra mile to make our customers feel special by sending them a video of their chosen
flower arrangement
(including the note) via
WhatsApp
or
Email
before delivery. This way, our customers can see exactly what they are getting and can be assured that their order is in safe hands.
Check over 9,000 positive reviews from happy customers on
Trustpilot
and
Google!
With over you can be confident in choosing Flowers.ae as your go-to florist for all your flower delivery needs in Dubai and the UAE.
Last-minute gifts are a simple part of life—especially when things get stressful occasions like
Valentine's Day
and put onto the back burner. We offer expedited same-day delivery on our flowers, plants, and gifts as long as you order by 10 P.M. in your recipient's time zone. Our same-day flower delivery service ensures that your last-minute gift is still on time! Even though you may be in a rush to get your gift baskets or rose bouquet order in, each one of our arrangements are handled with painstaking care. No detail falls short under our expert florist's watch. Our online ordering system makes it easy to select a bouquet or gift from our catalog, add any custom features, and send it to your recipient's address.
Ordering flowers for a specific occasion? At Flowers.ae, we categorize our collection of
flower arrangements
and plants by occasions to make your
flower shopping
experience simple. Our range of flowers, whether you're searching for a gentle
Tulip bouquet
or
Rose bouquet
, is suitable for every event, you can order
Birthday Flowers
,
Valentine's day Flowers
,
Christmas Flowers
,
New Year flowers
,
New Baby Flowers
,
Anniversary Flowers
,
Welcome Back Flowers
,
Congratulations Flowers
,
Condolence Flowers
,
Mother's Day Flowers
,
Ramadan Flowers
,
EID Flowers
and so much more.
Our
expert florists
in Dubai specialize in creating stunning flower arrangements and gift baskets for all occasions.
Our expert online Flower delivery team is working hard to achieve our customers' everyday expectations and not only deliver flower bouquets but more than that messages to make your special day more memorable. Flower delivery to
Dubai
,
Abu Dhabi
,
Sharjah
,
Ajman
,
Ras al-Khaimah
,
Umm Al Quwain
, and
Fujairah
Available. We recommend our florist partners for the following locations flower delivery
Ireland
and florist in
Dublin
.
We deliver to all 7 Emirates in the UAE. (Dubai, Abu Dhabi, Sharjah, Ras Al-Khaimah, Fujairah, Ajman, Umm Al-Quwain)
Yes, we offer exact time delivery of your choice with an additional cost of 50AED.
An email or SMS will be sent to the sender when the flowers have been delivered to the receiver.
Our flowers are sourced from the finest farms in South America, Holland, France, Italy and Ethiopia and carry our freshness guarantee. Where possible, we deliver flowers close bud so they are fresh for 7 days.
We will contact your recipient before delivery to confirm the location and convenient delivery time. If they are not available on that day, we will reschedule to suit their availability.
To ensure your complete satisfaction, once your order has been arranged, our florist will send a video of your finished arrangement by email for your approval, before delivery.
Yes, our florist will send a video of your finished arrangement by email for your approval, before delivery.
Yes, Flowers.ae is the highest rated florist in the UAE and offers events and wedding flower arrangement. Check out our wedding page to learn more.